The "FBA Inventory Management" allows you to check all products' inventory status under the marketplace you selected. What's more, you can configure the inventory restock suggestion calculation and the time when it will remind you to replenish stock.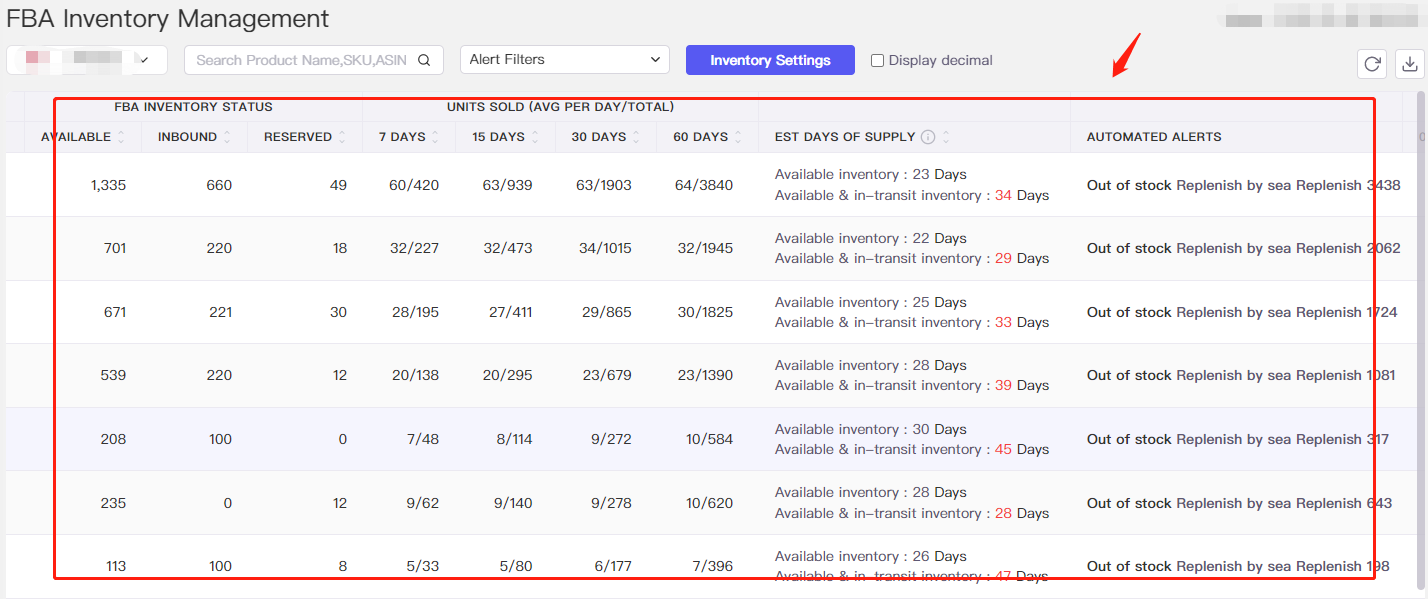 Check the "Display decimal" to view accurate calculations.

1. How to check the inventory with alert type filters?
#
You can quickly locate the products that are out of stock with the alerts filters.
Out of stock: the inventory is about to be in short supply (based on the relation between average sales of x days you set up and inventory)
Excess: the quantities of the products in the inventory exceed sales within 90 days. 
 Long-term storage: the products stay in the Amazon warehouse for 271~365days which causes the storage fees.
Suggest inventory removal: it includes the inventory ages over 356 days which causes the extra warehouse storage fees and the products are off the Amazon listing (not for selling).

2. How to configure the inventory calculation settings and inventory replenishment suggestion calculation method?
#
Click the "Inventory Settings" to configure the restock recommendation calculation by sea/ by air or of urgent replenishment and set up this calculation will be applied for one marketplace or multiple marketplaces you are selling.

You can select 7 days, 15 days, 30 days, or customized days of average sales for the estimation of days available on selling Amazon (days of supply).

Turn on the replenishment alerts (it will remind you when the days of product at selling or in transit are less than the ocean shipping circle you set up).
Ocean/ Air shipping circle: enter the estimated shipping days from your supplier to the Amazon warehouse.
Click the "Settings" button to customize the restock recommendation calculation methods.