Free Request Review Plugin
Automate review requests in one click. Intelligently filter the items and SKUs for free.
Tool4seller Extension
Direct install from Chrome Web Store
Tool4seller Zip
Direct download and install in browser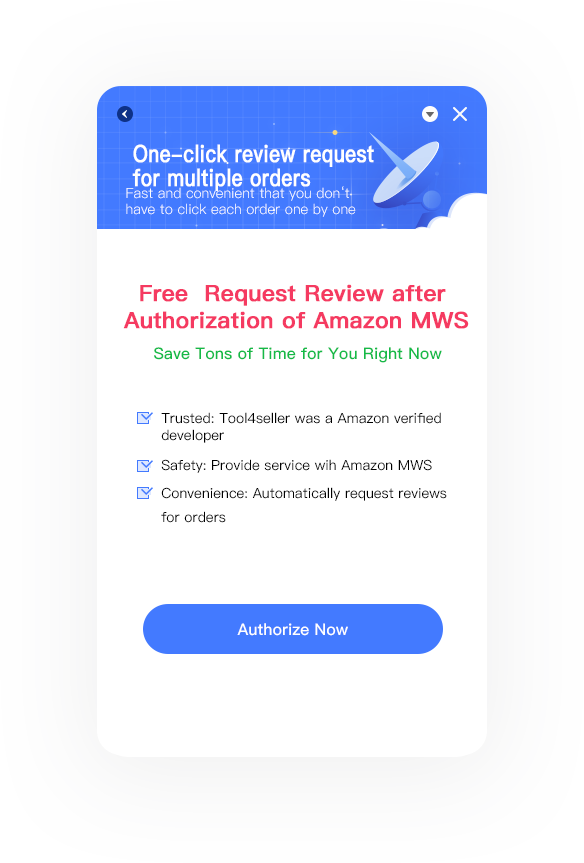 Store Authorization for Easy Operation
Automatically request reviews in batches to improve work efficiency.

Intelligent screening conditions for a full control.
Secure, reliable, smart.
Automatic Review Request in Bulk
Safe and convenient design that requests customer reviews for the specific order date in one click.
Google Chrome Extensions protects your privacy. It uses the same network as your browser and is ready to use if you can access Seller Central.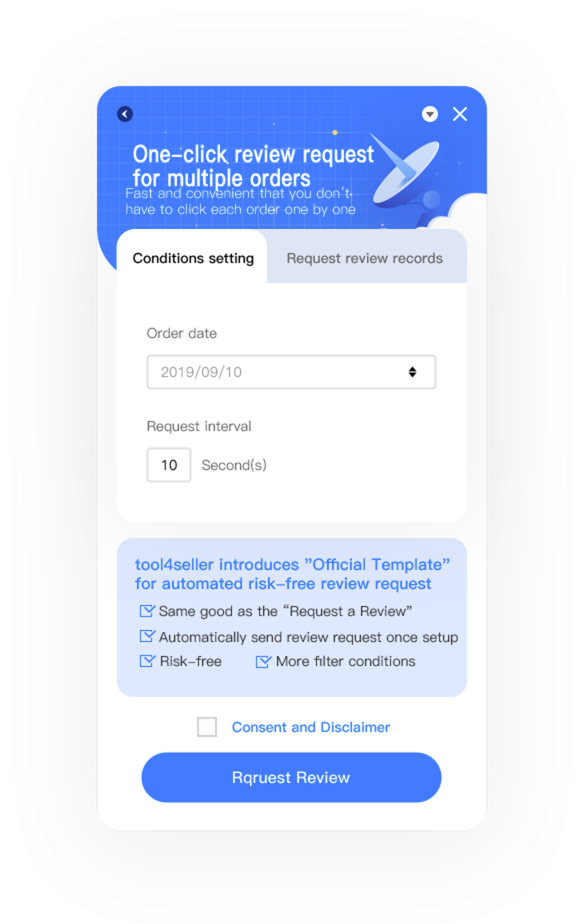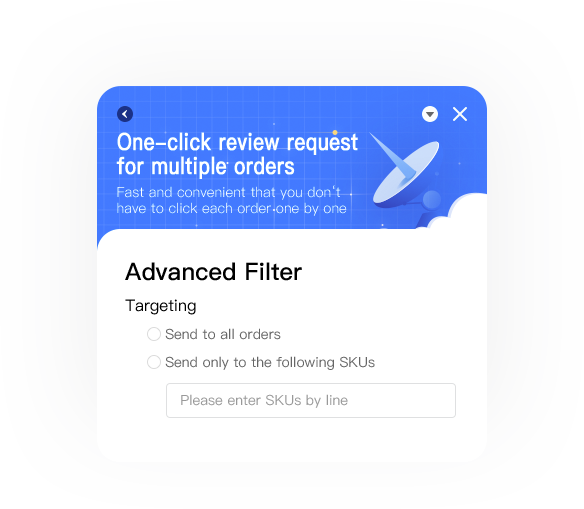 Intelligent Screening Target
Set multiple or specified targets for taking full control when sending review request emails.
Filter to the SKU level for more accuracy.
Eliminate refund orders and reduce the probability of negative reviews.
Adjust the interval to avoid access being blocked by the Seller Central for frequent operations.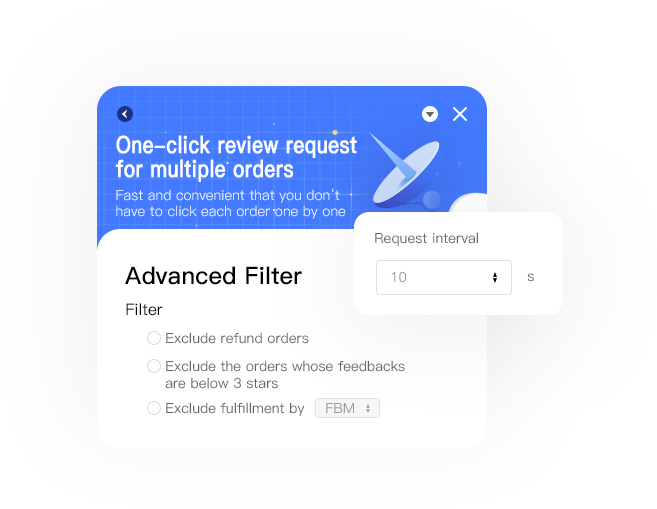 Q: Is it a paid extension?
Unlike Jungle Scout, Amzscout and other browser extensions, it is used for free.
Q: Which Amazon marketplaces does it support?
Currently, this extension supports most marketplaces, including US, Canada, UK, Germany, France, Italy, Spain, and Japan.
Q: Does the extension steal my information?
You don't worry about it. Our extension has been reviewed and approved by Google, so only your listing information can be accessed. We won't get your private information such as browser access history.
1. Click to download the extension zip file and extract it to the designated drive location.
3. Click 'Load Unzipped Extension' in the upper right corner to find the folder that you unzipped the extension, and click "Select Folder". The browser will automatically install the extension.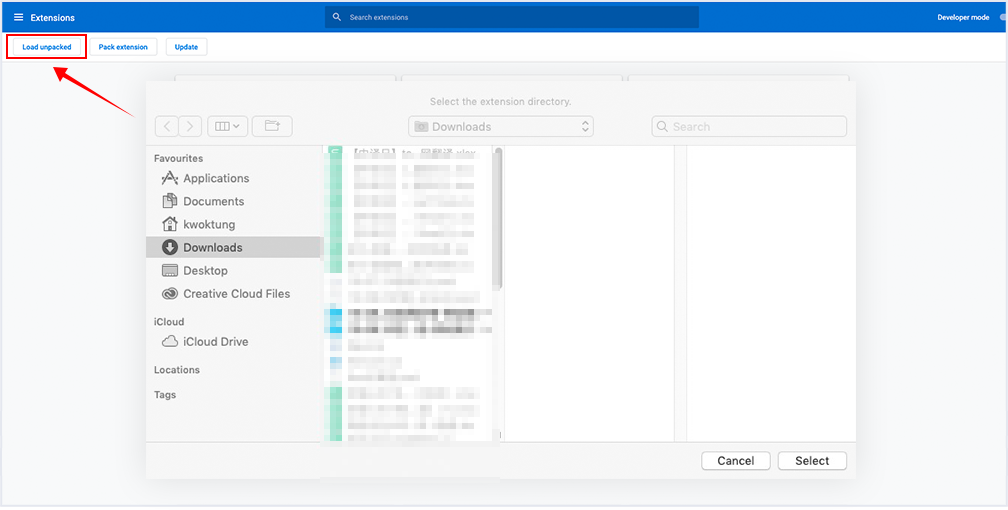 Automatic Review Request in Bulk can effectively reduce your workload of clicking "request a review" button repeatedly. It is a Google Chrome extension, which uses the same network as your browser. You can use this plugin when accessing the Seller Central.
The specific steps are as follows:
1. Firstly, please log in to the Amazon Seller Central.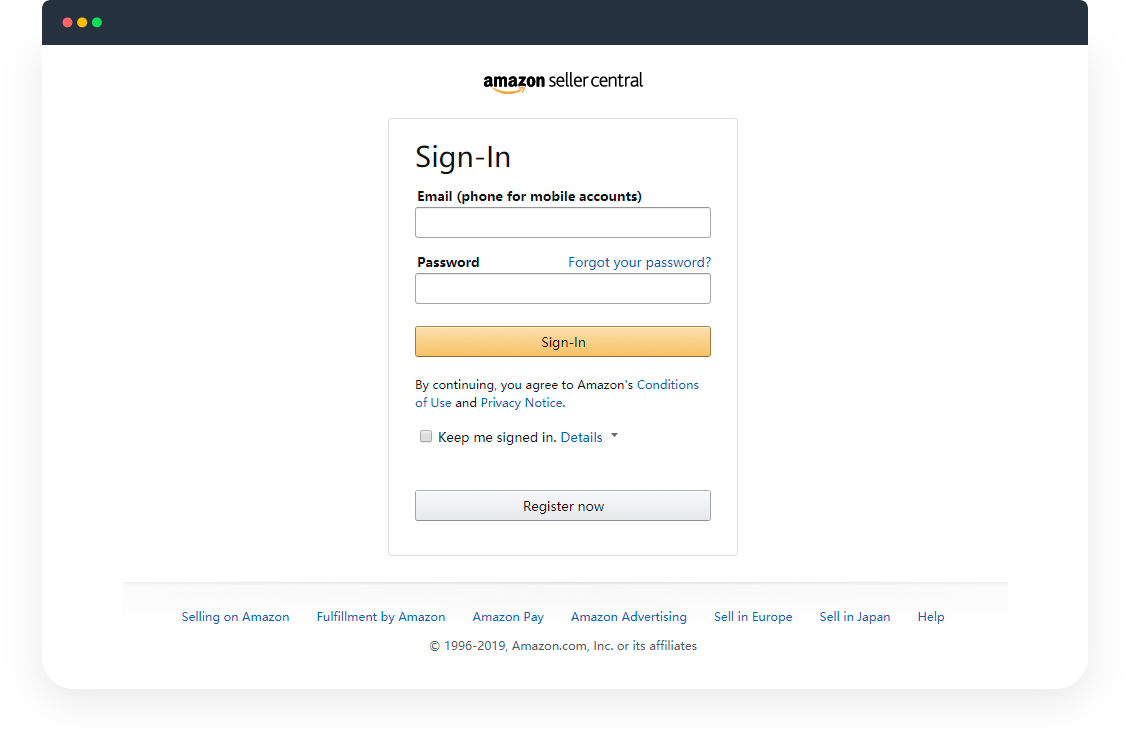 2. Install the extension according to our tutorial. After completion, please log out of the tool4seller and Seller Central, then log in again.(If you do not have a tool4seller account, please sign up first. )
3. Go to Manage Orders on the Seller Central, and click the "One-click Review Request" button to open the plug-in page. If you have not linked with an authorized store, please click "Authorize Now", and go to the tool4seller software to complete the authorization.
P.S.: For authorization, please use the same computer that you operate your Amazon stores. and ensure that the authorization environment is consistent with the business environment network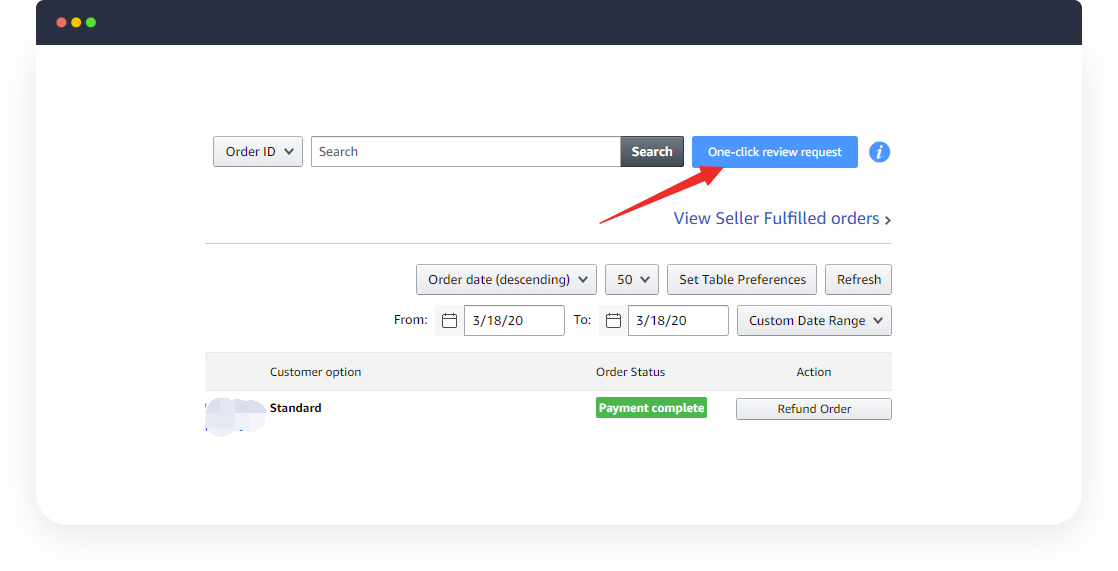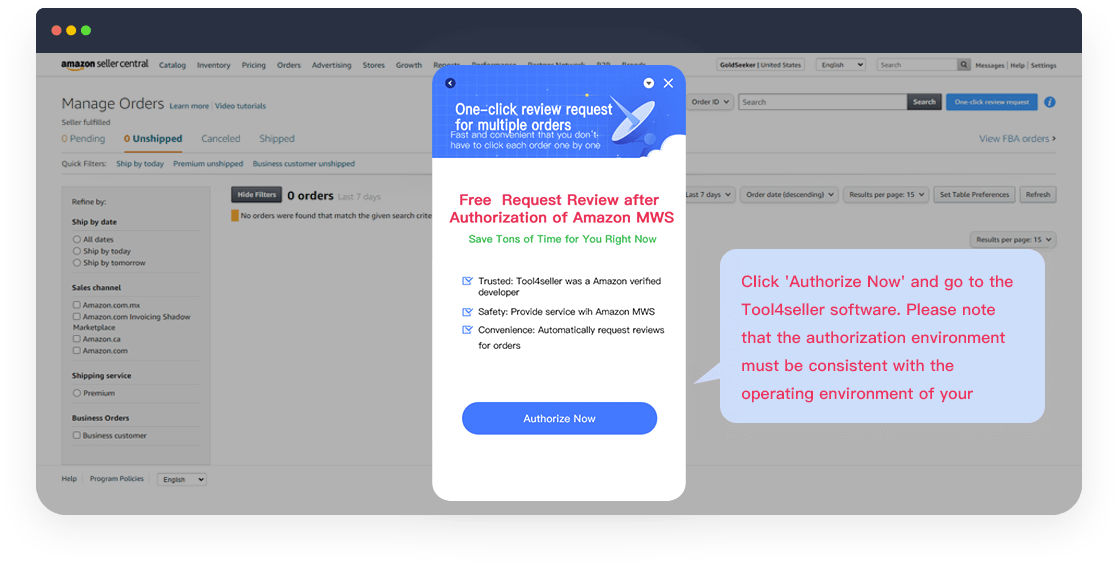 4. Select the order date that you want to request reviews, set up the time interval and screening conditions, then click the "One-Click review request" button.Please note that the time interval should not be too short, otherwise, it may trigger Amazon blocking mechanism that causes failure login of Seller Central or account suspension.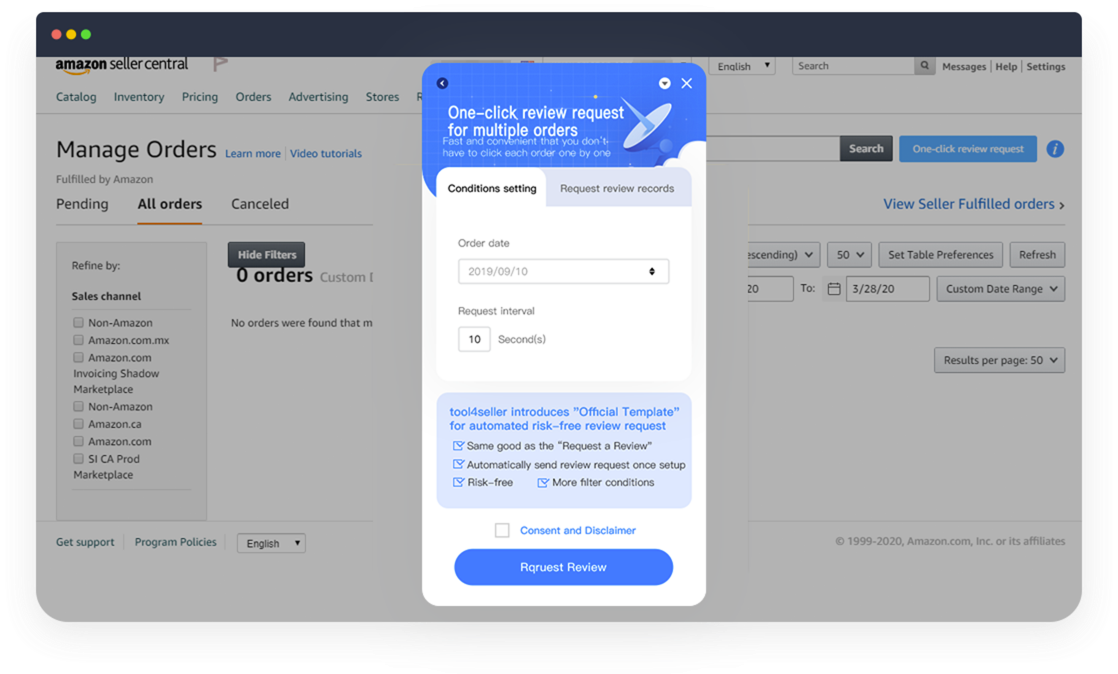 When using Automatic Review Request, it's recommended to log in tool4seller to authorize stores with advanced filtering to reduce negative reviews. You can get a free trial of all kinds of packages for 14 days after initial authorization. Some free functions are still available for use after the trial period has expired, which can basically meet the needs when you use the plugin.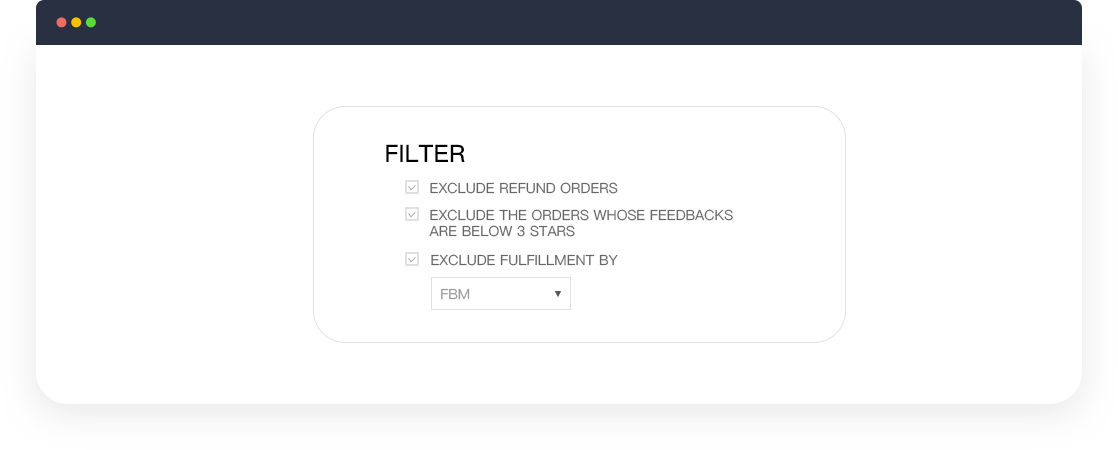 It takes several hours to sync your data after authorization. The toolbar will display the relevant data of your store when you log in to the Seller Central every time. Click to see the plugin dashboard for more details about real-time sales trends, important notice, and other content.
5. The extension starts to work. Click the extension and you will see the request is in progress. Do not close the browser and the corresponding Seller Central account. The extension will display completion after the operation is done.
You may also be interested...
Would like to learn more about how to sell on Amazon?
Tool4seller Helps You Succeed in Selling on Amazon