How to maximize the benefits from Amazon's three AD types?
Amazon offers three ads options for vendors and sellers: Product Display Ads, Sponsored Products, and Headline Search Ads. How to get the most out of these options?
In order to win the Buy Box and establish a brand, you should first be familiar with each type of advertisement and how to use it, whether you are through Seller Central, Vendor Central, or Vendor Express.
1, Product Display Ads
When you set up a display AD, you can choose to target a specific set of products. For example, if you're selling five-blade razors, you can target other five-blade razors. This is a more targeted advertising approach, which will lead to higher conversion rates.
Interest-based advertising is much extensive. For example, you can target ads for men who want to shave. Your ads will show up to more users, but they won't be converted to product-targeted ads.
So you can create two ads at the same time, one targeting specific products and another targeting buyer interest. You can then determine which produces the best return on investment. In this way, your display ads might appear on competitors' product details page, usually under "other sellers on Amazon".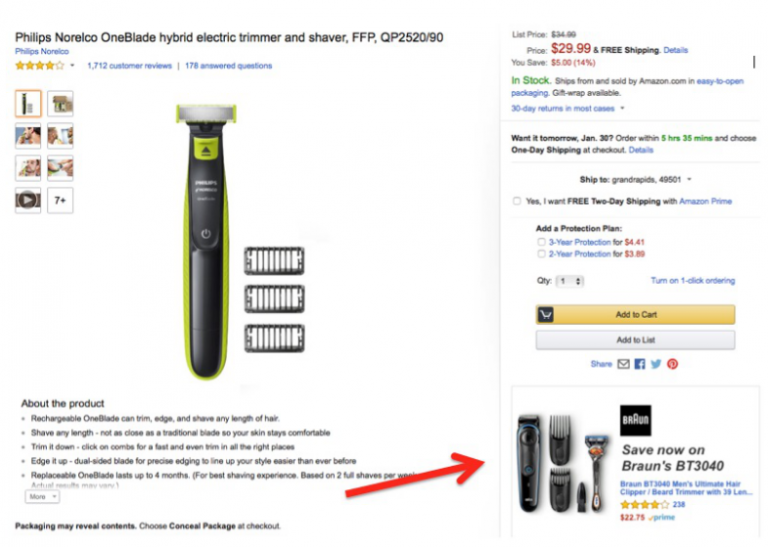 Product ads can be served on competitors' product pages. In this example, an ad for Braun razor appeared on the Philips Norelco product page.
Product display ads may also appear in search results, right AD bar or bottom of the page, as well as customer review pages and Amazon-generated marketing emails, such as follow-up and recommendations. Display ads can also appear on Amazon desktop and mobile websites and mobile apps.
As can be seen from the above, the advertiser cannot choose the exact position of the product display advertisement by himself. Ads can appear in several locations depending on the type of AD you choose.
2, Sponsored Products
Sponsored Products ads are keyword-driven through either "manual keyword targeting" or "automatic keyword targeting", which has its own value respectively
Manual keyword targeting is similar to Google AdWords and other pay-per-click platforms. You can create a dedicated keyword list, determine the match type (extensive, phrase or precise) for each keyword, and set the bid. You can enter 000 keywords at most.
You can use Amazon's campaign manager to monitor the effect of each keyword, adjust the bid, add and delete keywords.
Automatic targeting uses Amazon's search shopping intelligence and search algorithms to help you find the best keywords for your ads series. This eliminates the need for manual targeting. You no longer need to control the bids for each keyword, just set the daily payout amount.
When you create sponsored product campaigns for new products, you usually start with automatic targeting. After four weeks, a search term report that is different from the regular search terms report in the Ad Manager will be generated in the ads reporting area.
This ads report provides specific keywords that consumers use to find products, and which keywords ultimately turn into sales. It will also tell you which ASIN content the customer is viewing when they click on your ads. These are high value information. You can use these keywords to optimize your product pages to generate more effective traffic.
Sponsored products usually appear in search results, on the right side of the column or at the top or bottom of the page. Sponsored Products are popular with all kinds of sellers. Such ads are easy to create and are usually approved within an hour.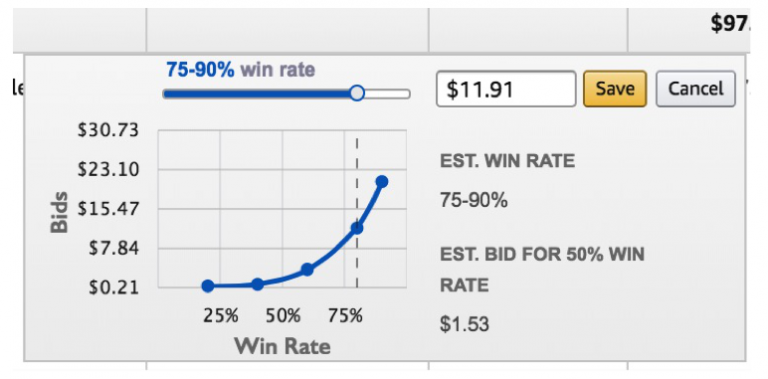 3, Headline Search Ads
Headline Search Ads are keyword driven and appear at the top of the search results page. These ads are available to vendors and third-party sellers.
The appeal of this kind of ads is its flexibility. Each ad can contain up to three products, but you can link your ads to your brand page, where lists all of your products. You can test multiple ads and determine which gets the best results; build a keyword list and choose a match type: phrase, precise or extensive. Then set bids for each keyword and track the results.
A few days after advertising, you should check the bids for each keyword and set the price of the estimated win rate.
Headline Search Ads are expensive and may cost a lot in a short period time according to experience. I mainly use this kind of ads for brand building and positioning the top funnel. So you should monitor the results every day.
The cost of Headline Search Ads is growing fast
Integration and optimization
No single ads type or optimization strategy can work independently. By integrating above three types of ads, I have achieved the best overall results in Amazon and got optimized product pages. Therefore, in order to maximize sales, it is necessary to work together and adopt a three-pronged approach.
---