Amazon Marketing Services-What is AMS and How Does Serious Sellers Manage it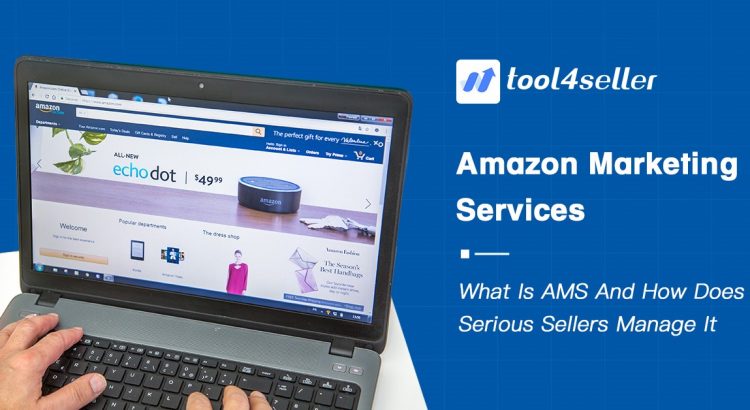 One of the most important parts in ensuring that your products get sold on Amazon is visibility to the consumers that are browsing the website and interested in what your storefront is offering. Targeted advertising is one of the most essential ways of doing this, and Amazon provides a method for this in the form of Amazon Marketing Services or AMS. However, serious sellers should consider investing in outside marketing tools to optimize their AMS Advertising for the best possible results. Marketing tools such as tool4Seller can make using AMS a breeze, help you easily build effective marketing campaigns, and give you all the analytical data to adjust your keywords to best match your products to interested consumers.
But, first, what exactly does AMS entail?
What is Amazon Marketing Services?
AMS is the built-in pay-per-click (PPC) platform where you can get your products visible to relevant consumers based on products, keywords and the consumers' interests (such as viewing habits.) AMS allows you to create advertisements that will be visible on various parts of Amazon such as sponsored product listings on search results, headline search ads in search results, and product display ads. Only the first two are available for sellers, as product display ads are limited to vendor accounts.
Amazon Sponsored Products Listings
Sponsored product listings available to sellers and vendors are based on keywords and consumer interests and are injected into search results just like any other product. Sponsored product listings can appear at the top, middle, or bottom of search results, or even down along the side, based on whether the consumer is viewing on a desktop or mobile device. These are the most popular type of ads for products as they are easy to make and approved quickly. Your listings are eligible if they have the following:
●Professional seller account
●Available shipping to all US addresses
●A Buy Box (if you create a sponsored ad for a product without a buy box, it will not be shown to customers)
●A new product, not used or refurbished. Also, adult products do not qualify.
●They must also be part of an eligible advertising category, listed below:

Sponsored product listings are available to the following countries:
●US
●UK
●Canada
●Germany
●France
●Italy
●Spain
●China
With Amazon sponsored products you can use automatic or manual targeting for keywords.
Headline Search Ads or Sponsored Brands
Headline Search ads, now known as Sponsored Brands, are the second form of AMS available to sellers now, and these appear at the top of search result pages on both desktop and mobile. These ad listings can be up to 3 ASIN have three options available:
●Creating a brand page: promote up to 3 ASINs that link to a brand landing page
●Amazon Page: Promote 1 ASIN that links directly to its product page
●Custom on-site landing page
Sponsored brands are driven by keyword and ad copy, so you should ensure your headline and text match the keywords that are most important to your product to ensure good clickthrough rates. With headline search ads you can adjust:
●Headline
●Images
●Number of featured ASINs (depending on option)
●Order of the ASINs
●ASIN selection
●Custom landing page selection
Tool4Seller: The Online Marketing Tool for Serious Amazon Sellers
When it comes to being a serious Amazon seller, you need to use all the tools available to you to be able to have that competitive edge to sell your products. Tool4Seller has built-in a PPC optimizer to ensure that your AMS advertising is getting targeted to the right audience, and gives you analytical data suggestions so you can quickly adjust your advertising campaigns for maximum performance.
PPC Optimization
With tool4Seller you have available in the PPC optimization section several tools to help you, they include:
Campaign Manager
This section allows you to view all your current advertising campaigns and all the important information about them: Data graphs, automation settings, status, targeting style, start and end date, budget, and campaign performance. This information is key in knowing how successful an ad campaign has been, and whether changes need to be made.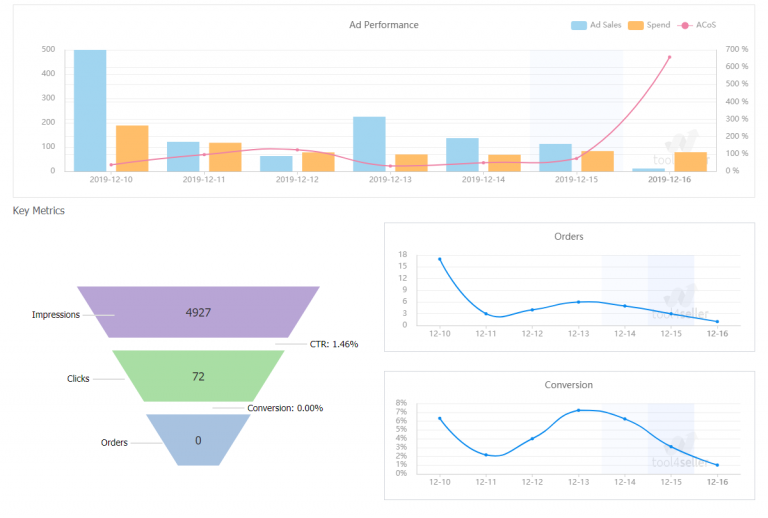 Advertising Reports
This section shows detailed analysis of how your advertising campaigns are performing, from orders based on ads to impressions, click-throughs, and spend rates. You can also see how each SKU is performing from ads, how each campaign is performing, and how each group of campaigns is performing.
Ad Keyword Optimization
This feature is very important to all the advertising you do an Amazon, as it allows you to see specifically how keywords are performing in each of your marketing campaigns. Depending on keyword success, it also makes suggestions for keywords that you should add to your negative words, keywords you should pause, or keywords you should increase your bidding budget on.
Ad Scheduling and Ad Automation
Sometimes it isn't effective to have your marketing campaigns running every day, or every hour of the day. Targeting times of the day or times of the week can improve the performance of your advertising. With ad scheduling and ad automation, you can ensure that your limited advertising budget is used most effectively by running campaigns only during high sales time frames. With scheduling, you no longer need to log into Seller Central in order to turn off and on advertising campaigns at certain times. Tool4Seller will deal with all of that automatically for you.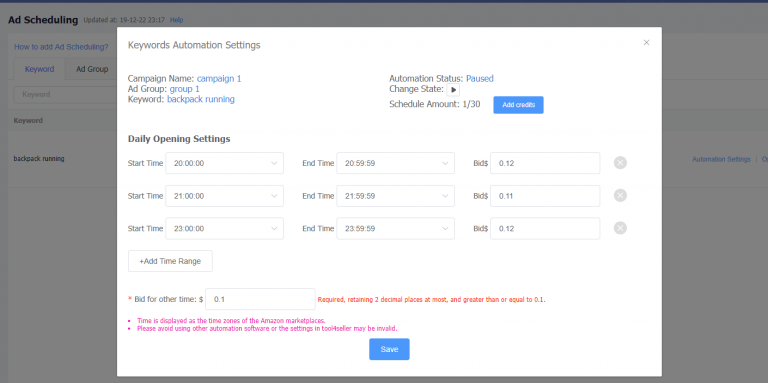 Amp Up Your Amazon Marketing Services Game
With external online tools like tool4Seller, you get the most out of your marketing campaigns on Amazon, ensuring that you have the right keywords to get your products noticed by consumers that are interested in what you offer. So, if you are looking to be a serious seller, you need to give serious consideration to using all the tools available to you to maximize your profits and minimize wasted advertising spending.
---