Jungle Scout VS. Tool4seller 2022 Comparison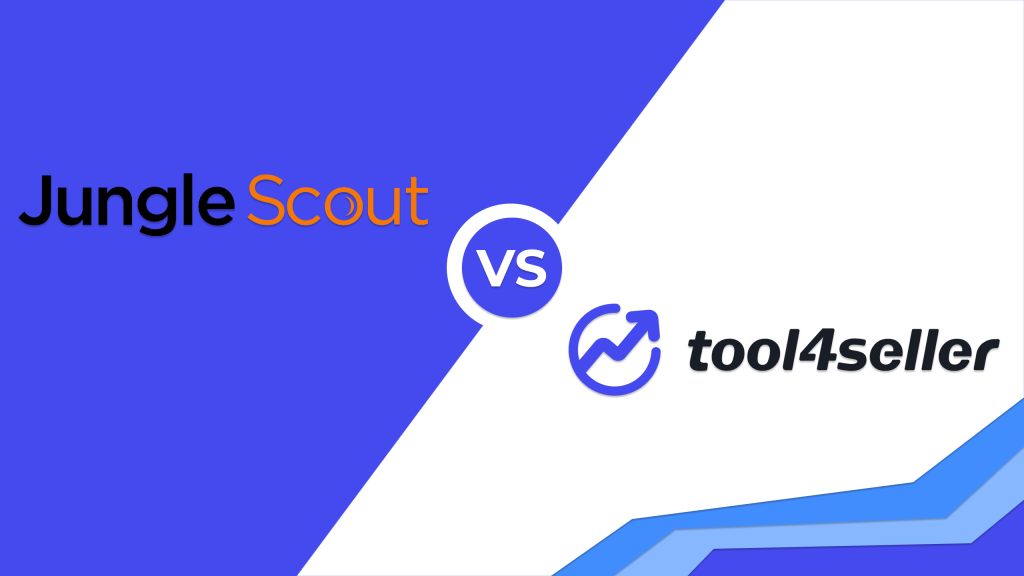 Tool4seller and Jungle Scout are two of the most utilized tools for Amazon sellers. These tools will assist you to scale up the sales and getting your products off the ground. It's worth investing in such software to grow your Amazon business. Product research and competitors analysis are the keys to a successful eCommerce business on the Amazon platform. Thousands of merchants are joining in, and the competition is heating up. Many sellers have to choose the competitors and product research for the online business. Jungle Scout has its highlight on finding products, while tool4seller brings the accurate profits analytics and sharp tracking of your rivals.
Ⅰ. Key Differences Between Tool4seller & Jungle Scout:
| | | |
| --- | --- | --- |
| Features | Tool4seller | Jungle Scout |
| Competitor Analysis | Yes | No |
| Product Research | No | Yes |
| Keyword Research | Yes | Yes |
| Keyword Rank Tracker | Yes | Yes |
| Rank Tracker | Yes | Yes |
| Product Tracking (Competitor Tracking) | Yes | Yes |
| Request Reviews | Yes | Yes |
| Profits & Sales Tracking (Sales & Profits Analysis) | Yes | Yes |
| Global Supplier Database | No | Yes |
| Inventory Manager | Yes | Yes |
| Opportunity Finder | No | Yes |
| Opportunity Score | No | Yes |
| Unlimited Email Campaigns | Yes | Yes |
| PPC Automation Tool | Yes | No |
| Smart Repricing | Yes | No |
| Listing Quality Score | Yes | No |
| Local Product Management | Yes | No |
| Mobile App | Yes | No |
Ⅱ. Overview Between Tool4seller & Jungle Scout:
Tool4seller is the price-friendly online seller tool that was made for saving Amazon sellers from heavy tasks and complex calculations. Empower them with lots of useful functions to increase organic sales, improve advertising conversions, and outplay competitors. The comprehensive analytics and tracking reports help you get insights within a few seconds.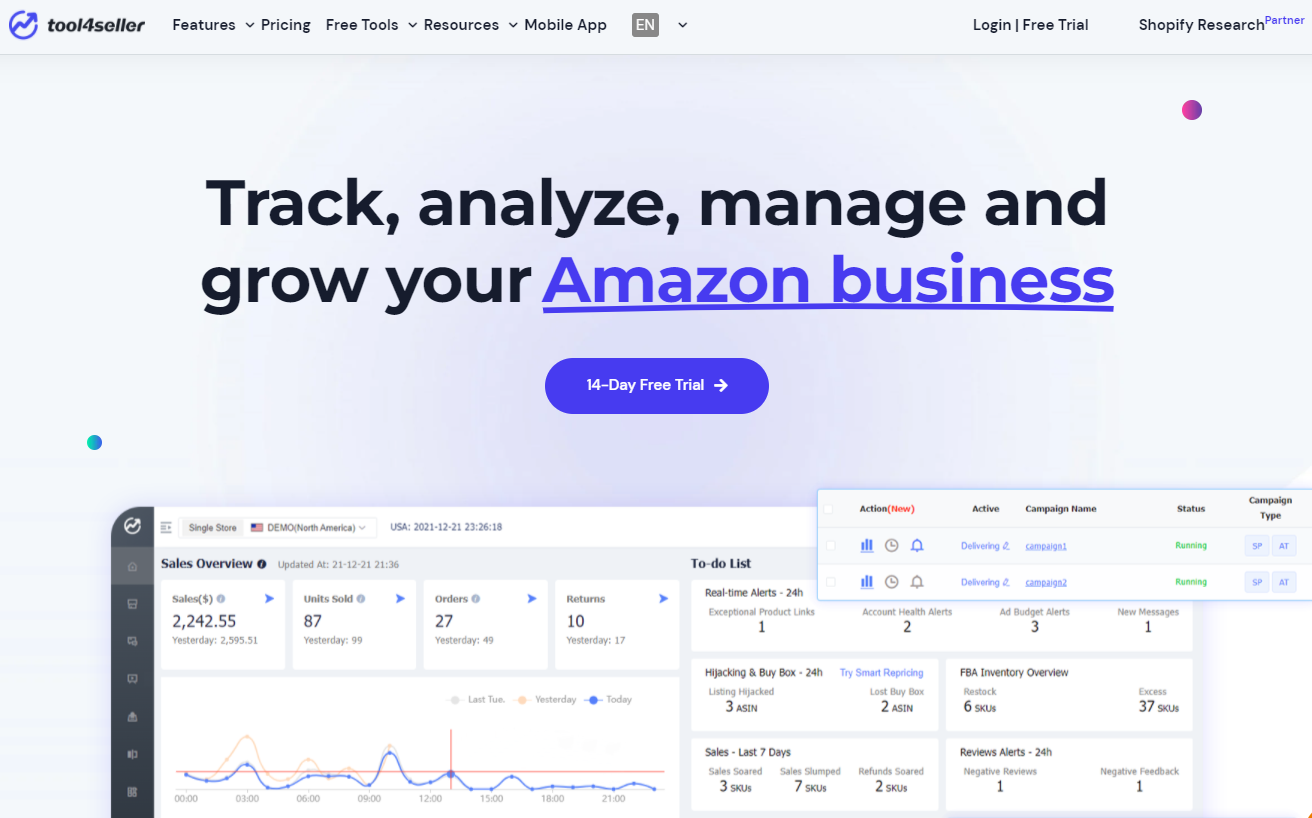 Jungle Scout, on the other hand, is a product research tool in the market. They can help Amazon merchants to discover the new approach to business success. It will help you find the required information from product research to suppliers. If you have no clue of what to sell on Amazon, Jungle Scout will be the best choice to start. Meanwhile, tool4seller is also a good competitor research tool to grab the market share of the product you find on Jungle Scout.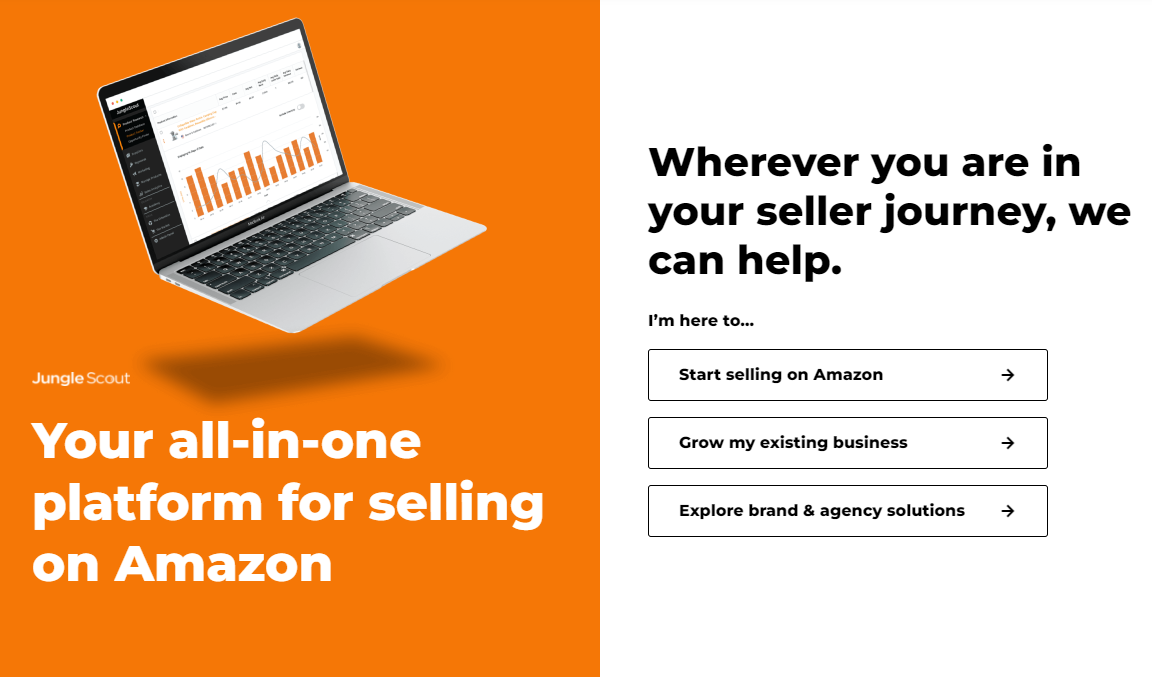 Ⅲ. Pricing Plans Between Tool4seller & Jungle Scout:
Last, let's look at the pricing plans for both of these tools.
Tool4seller offers the pricing plans based on functions that suit all levels of FBA sellers. It only charges $19 per month for one plan. You can choose any of the features freely and are friendly for you to use with other seller tools at the same time. For example, using the PPC Optimization and Competitors Analysis of tool4seller with Jungle Scouts basic plan for product research. This will help sellers save money.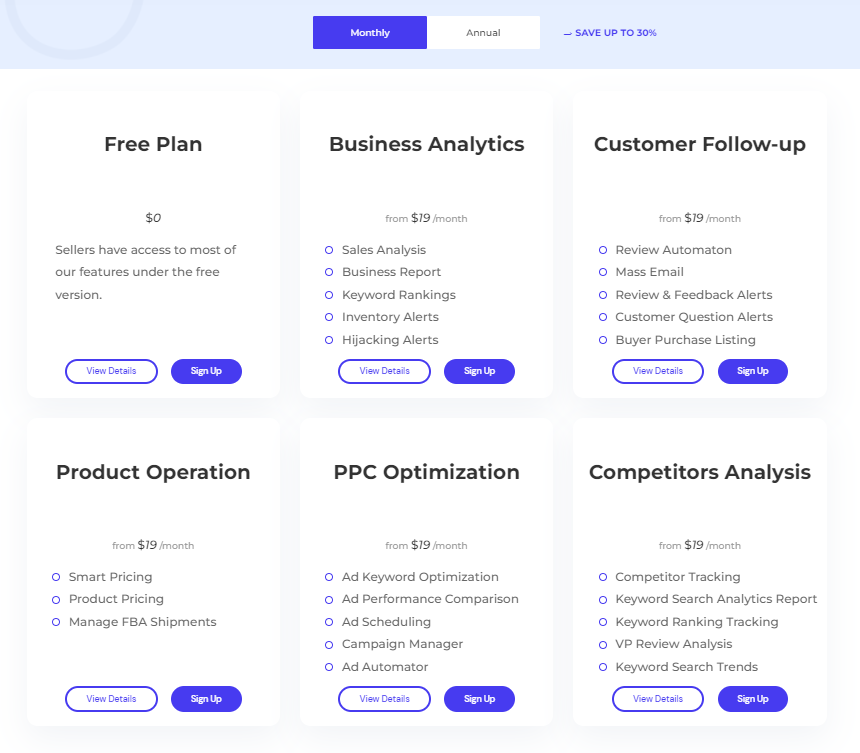 Jungle Scout provides three pricing plans for the FBA sellers by the roles of sellers. The basic plan is available for beginner sellers, the suite plan covers everything that helps find new products and allows small and large sellers to manage their business, and the professional plan allows sellers to track 1000 ASINs.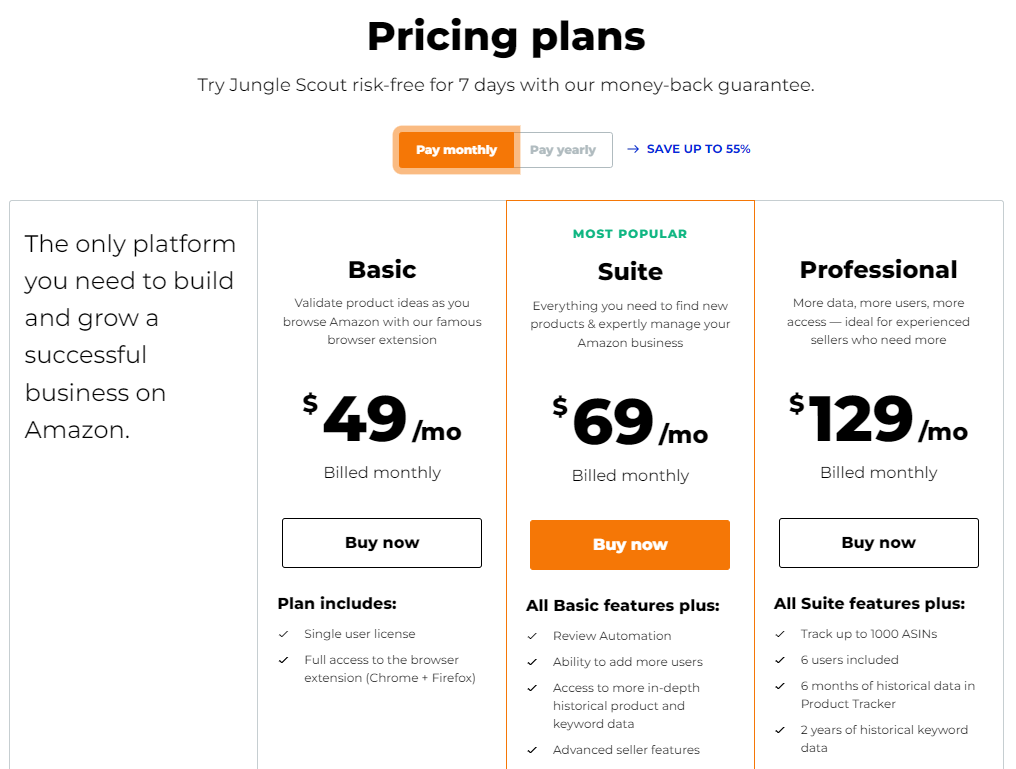 Ⅳ. Conclusion: What you should opt for?
Tool4seller and Jungle Scout are known for two different needs of sellers. Jungle Scout is meant for new beginners who have no idea of what product to launch on Amazon while Tool4seller can help you grow the sales to the next level with insights of competitors and sales analytics. Recommend to use them both at a time. If you have a limited budget, just choose what you need at the current stage.
A best-in-class Amazon seller tool that is specialized in sales& profits analytics, PPC optimization, keyword research, competitor tracking, instant alerts for listing hijacking, price changing, and inventory updates, etc.
---