The Amazon 2022 Important Holiday Calendar for FBA Sellers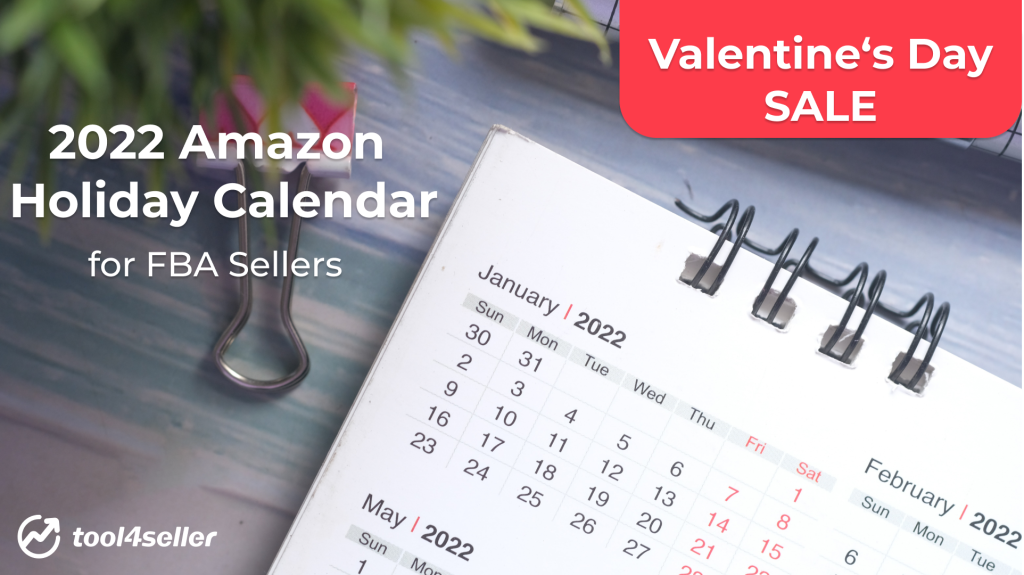 Many buyers are excited and wait to purchase the products they long for in certain seasons or holidays. Sellers also clearly understand that holidays seasons are the thriving opportunities to grow their Amazon business. Each year's holiday is a great opportunity to increase one's brand's visibility and sales on Amazon, especially the special dates (Amazon shopping events) —— Prime Day and 12 Days of Deals.
The upcoming Valentine's Day is very popular as well as Prime Day and Black Friday.
Are you ready to drive revenue and increase your brand awareness on Amazon 2022 shopping events?
Here we prepare the Amazon 2022 Holiday Calendar, based on past events, to help you keep your stock levels on track and leave enough time to plan marketing strategies in advance.
Amazon 2022 Holiday Calendar and Shopping Events

Date

Event

January 01

New Year's Day

January 31 – February 06

Chinese New Year

February 14

Valentine's Day

February 14

Super Bowl

March 17

St. Patrick Day

March – April

Spring Break

May 8

Mother's Day

May 30

Memorial Day

June 19

Father's Day

July 18 -19 (Predict)

Prime Day

June – August

School Summer Break

July 4

Independence Day

August 1 – September 5

Back to School Season

September 5

Labor Day

October 1 – January 1

Holiday Shopping Season

October 31

Halloween

November 24-25

Thanksgiving

November 25 -28

Black Friday – Cyber Monday

December 25 – 26

Christmas

December

Year-End Deals

December

12 Days of Deals

January 01

New Year's Day
When should I send products to Amazon fulfillment centers for holidays events?
To ensure your FBA inventory or FBM inventory receives your restock products on time, we suggest you send your products to the Amazon warehouse 20-45 days before the holidays. If your place is far away from the marketplace your sell, it's important to contact reliable logistics to arrange the shipping at least one or two months in advance.
How to boost sales with marketing strategies during the Amazon 2022 holidays?
1. Amazon stores are custom landing sites for brand registered sellers. You can set up your own store to showcase your best products in the marketplace. Here's how:
(1) Promoting a custom URL to boost recognition.
(2) Share your story with personalized content.
(3) Set up a more direct channel with your customers.
2. Lighting Deals are usually run every day on Amazon Today's Deals page, but not every brand does that, many of them will save them for special holiday offers. Lightning Deals are available for Pro sellers with a 3.5-star rating. Once you set it up, the marketplace will flag it to feature in the marketplace to attract buyers with unique discounts. Using competitor tracking of tool4seller, you will easily reach out to the historical lighting deals price of your competitors and make your competitive price to win.
3. Influencer Marketing is an effective promotion on social media platforms. Partnering up with them will help you attract niche audiences and highly increase the orders placement rates. You should work with influencers on TikTok, Youtube, and Pinterest to easily attract specific audiences.
4. Amazon listing SEO: Optimizing your product listing and selecting the right keywords to bid will largely help you receive visits. And Amazon A+ Content is also a good way to enhance your brand content. Using high-quality and appealing images and descriptions to lead buyers to place orders. Recommend you to use keyword research tools to find frontend keywords, backend keywords, long-tail keywords, and more. There are free search terms and keyword volume tracker tools for you to try.
5. Sponsored Campaigns: (1) Sponsored Products. Easy to create ads, with automatic targeting for customers searching for items similar to yours. (2) Sponsored Display. You can feature sponsored displays on and off the marketplace. Use them in your own shop, or in social media. (3) Sponsored Brands. Ideal to showcase multiple items on a single CPC ad. It's a perfect tool to stand from the crown, and drive users to your products. Learn more about Amazon 2022 Holiday Strategies on AMZ Advisers.
Last, there are lots of high times for seasonal and holiday events, just select and prepare what's suitable for you based on product attributes. Not all important dates (expect Prime Day, Black Friday, and Cyber Monday) are the right opportunity for you to do a promotion. Use Amazon sellers tools and Amazon 2022 Holiday Calendar to plan marketing strategies and arrange inventory to drive conversions.
A best-in-class Amazon seller tool that is specialized in sales& profits analytics, PPC optimization, keyword research, competitor tracking, instant alerts for listing hijacking, price changing, and inventory updates, etc.
---